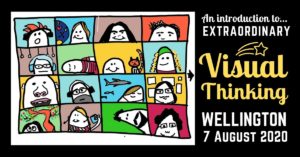 To book your place
Email Liana at liana.stupples@gmail.com. and pay your fee by bank transfer to 38-9022-0015538-00
(invoices and receipts available on request).
You will receive confirmation and further details once your payment has cleared.
Extraordinary Visual Thinking
A one day introduction to the power of visual tools for life and work
"To all non-artists, do this course, it'll give you confidence to be more visual with your work"
Visual thinking is a fast track to clearer thinking, deeper engagement, better recall and so much more. This one day course is for people who want to get started on working visually and come away with powerful easy to master tools.
Participants will come away with:
• Knowledge about the benefits of visual thinking
• Greater confidence to make and draw without having to be an artist
• Top techniques to work with 8 key elements of visual work:
• Objects and positions
• Lines and dots
• Scale
• Text
• Shade and colour
• Themes and Templates
• Icons (build your own library of 50 icons!)
• Characters (top tips to draw Easy Peasy People in your own style)
• Tips and a chance to try (or buy) the best tools
• Ideas for how to apply your new skills;
• Idea for participative visuals when working as a group
• Ideas for Sketch notes for yourself to record and recall
• Ideas to clearly communicate with and engage others
• Create your own course book and take it home to continue your practice
• Have access to a coach and the community of course participants to continue your learning
Here is more of what previous participants have said:
"I loved learning techniques that look amazing but are actually quite simple"
"I definitely recommend this course, it's amazing value for your time and money, with lots of inspiration and tools/skills you can implement immediately in a range of ways."
"Go for it! One of the best days you'll invest in your self"
Cost:
For profit/govt $450 inc GST
Not for profit/student $280 inc GST
Pay it forward place $150 inc GST