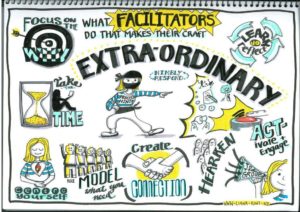 The Great thing about the Extraordinary Facilitation courses I run, is that they bring together many interesting people with a wide variety of facilitation experience.
At the beginning of every course we participate in an appreciative enquiry exercise which draws out our knowledge about what  makes facilitation extraordinary and what you could do more of, if you want more extraordinary.
Out of interest, I have compiled the results from at least 6 of these enquiries and it is remarkable how consistent the answers are.  I have boiled it down to 9 critical actions you can take to make your facilitation extraordinary.  The table below collates the original statements; the graphic above pulls it all together.
Get in touch if you want better resolution copies of these resources….
WHAT A FACILITATOR CAN DO TO GO FROM ORDINARY TO EXTRAORDINARY –  COMPILATION OF 6 plus COURSES
TAKE THE TIME
Time and  creating space for unfolding
Time
Slowing down and allowing time
Taking time to reflect and use intuition
Not rushing things allow more time for ideas, discussion connection
Create space and time for mindfulness
Hone your time management and awareness
FOCUS ON THE WHY
Focus and braveness
Bring clarity of purpose and clearly identify it
Know the why – what is the purpose
Focus (reducing workload or distractions)
CENTRE YOURSELF
Focussed and regular self -reflection
Know what natural skills you bring
Where is your passion and energy coming from? – feed it and plug in
Step outside of yourself
Equanimity (avoiding imbalance)
Centred
Embrace vulnerability
Find the real bit of you, you can share or be today
Share and empower the group to share
Lose the imposter syndrome
Have faith and passion
Believe in yourself
Be aware of yourself
Clarity
refresh yourself
Self care
Self check = open
ROLE MODEL WHAT YOU NEED
Model open risk taking behaviour "the stripped back exposure of humanity
Be a courageous example
Come from the heart – purposeful self disclosure
Speak from your truth making an invitation
Share
HEARKEN TO  THE GROUP
Listen, really listen
Watch, really watch
Actively Listen
Sensitive, watchful, observant, tuned in
Be consciously aware of issues in the group – writing them out, looking at them, acting upon them
Be aware of the group
Deep curious listening to others and self
Acknowledge they may have other stuff going on
Have the eyes of a child
CREATE A CULTURE OF CONNECTION
Nurture and enabling a group culture to develop as a priority
Pepeha or mihimihi
Invite people to bring a symbol or a story
More getting to know each other and icebreakers
Cultural symbolism matters, developing common language matters – music, symbolism, words
invite people to share
Safety
Clear outcomes expectations and boundaries
Create a safe space for people to engage for a common purpose – taking the time to draw out contributions
Connection
Build relationship
Humanize
Affirm and value emotional intelligence
Empower those with passion
Empower and sharing
Connection and trust
Break the ice
CREATIVELY AND AUTHENTICALLY ACTIVATE AND ENGAGE
Activities and mixing it up to make it fun and engaging
Good food good place
Prioritising fun and lightness when designing
As enjoyable for everyone a possible
Creative thinking
Create opportunities
Get people outside
Movement
Engaging and funny – like a video clip
Evoke
More cool tools
Be open to trying new things
Real – real content
Create ways to engage deeply
Play – activities with a core focus on trust in order to build trust organically
Develop interaction and play
Make action
Get people Moving
Engage with the group
Create honeypots
Ask great questions
Less about content, more about enabling
Challenge
Lead by doing – everyone is in it together
Use questioning techniques that lead to self learning
Create activities and encourage them
NIMBLY RESPOND
Manage turning points in the process, create enough structure and content, then be open to outcomes
Be receptive to the vibe and be flexible
Let go of attachment to outcomes
Trust and openness- no preconceived ideas
Be open
Change the state
Be responsive
Know what needs preparation
Open to change, flexible
Take risks, let go of rigidness
Noticing –  look out for the opportunity in the moment
See what is emergent for the diversity of the group
Go with the flow of each group
Relaxing control
KEEP LEARNING THROUGH DOING AND REFLECTION
Practice
Feedback loops and reviews
Try, reflect, learn
Make mistakes to learn what works
Self reflection and keep learning
Celebrate success
Broaden your exposure – find a mentor, go to workshops