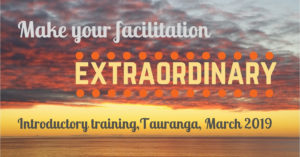 A one day course for emerging facilitators and leaders interested in broadening their people and meeting skills.  This intense and dynamic training is a fantastic way pick up out of the ordinary skills in effective facilitation and leadership so that you can be more engaging and bring about deeper change for the people you work with.
Who is it for?
The course is for people who have already started facilitating or leading groups of people and who are hungry to branch out and try more effective techniques and ideas from outside the box.  This course will expose you to dozens of new tactics and give you are chance to hone your skills in a fun and supportive setting.
Here's what previous participants said:
"Amazing "
"Great modelling of facilitation – experience it before you try it"
"Very practical experiential learning – heaps of fun – gets you thinking outside the box"
"Come with an open mind – I've discovered for example, that I can be more creative than I thought and I can facilitate this for others too"
"Really great for a wide range of previous experiences from novice to experienced.  I learned so much and would definitely come back for a part II"
Learning Outcomes
Deepen your understanding of ideas behind facilitation and participatory leadership
Develop a bigger tool kit of practical techniques and skills and the strategies to collate them to make facilitation more effective
Experience dozens of common and uncommon facilitation techniques including:

Working in non-office settings to achieve more impact
Developing greater self-mastery in tricky or challenging situations
Dealing with controversial issues and divergent perspectives
Developing a wider repertoire non-verbal communication skills

Try out new techniques for themselves and receive feedback
Reflect on your own personal strengths and develop your own follow up action plan
Who runs it?
Your guide is Liana Stupples a facilitator with over 20 years international experience.  Liana has drawn from her diverse work co-ordinating everything from international human rights campaigns, community engagement for controversial resource management issues, national social innovation projects, youth going on outdoor adventures to community singing and distilled the most powerful and extraordinary facilitation techniques for you.
She has worked for all sectors including business, government and not for profit and understands the challenges of good leadership and facilitation in each.  She has trained an equally wide range of people from international diplomats, to woman in prison.
Liana somehow helps you feel relaxed and open to new experiences; she will stick beside you as you challenge yourself. She can find the playful side of most things and she commits to bringing an engaging energy as well as sensitive facilitation skills to every event she runs.  Despite the fun she is serious about building the capacity of people and organisations to tackle the real and the tough stuff. That is why she has been curious all her life about how to better facilitate and lead and wants you to practically benefit from this insight.
Liana developed the successful 2 day Extraordinary Facilitation Course
What you get:
Full day training in a fantastic venue
Full e-handbook of techniques and tips
Free follow up coaching session and peer support forum
[This course is designed to perfectly complement the Introduction to Extraordinary facilitation 1 day course]
Tauranga's Historic Village
Date(s) – 25/03/2019
9:00 am – 4:00 pm
Cost: Extra-ordinary Facilitation (1 day) only $125, or
Extra-ordinary Facilitation and Visual Thinking (2 days)- $200
Register with SociaLink
Also coming up: 2 day course in Paekakariki Wellington  May 30 and 31 $550. Tickets are here
contact Liana.stupples@gmail.com to reserve your place